HOME
Saturday - August 28th, 2010

The 14th Annual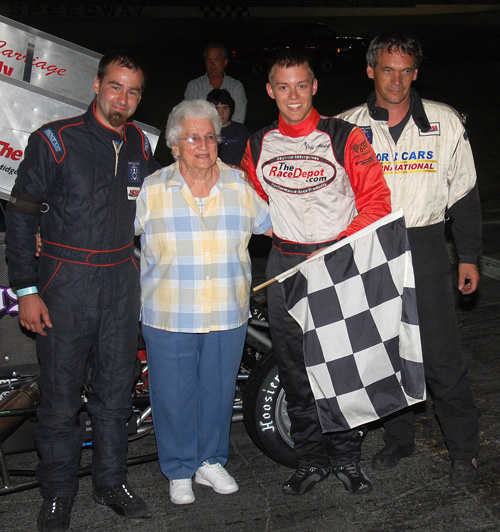 Randy Cabral. Miss Ellie Seymour, Jeff Abold, & Russ Stoehr
---
Abold, Nocella Dominate At "The Louie"
Seekonk, MA – Jeff Abold became the first back-to-back Boston Louie Memorial winner Saturday night, dominating the 14th running of the Northeastern Midget Association's headliner at Seekonk Speedway.

Coming from the 14th starting spot after setting fast time (11.071), Abold (Bobby Seymour #4) needed only 10 laps to take the lead from Anthony Marvuglio. Only a late restart and brief challenge from point leader Randy Cabral slowed the run.

It was a complete sweep for the sponsoring Seymour family, Anthony Nocella (Matt Seymour #29) coming from ninth to win the NEMA Lites feature. Nocella also withstood a late restart threat before besting Andy Barrows (Barrows #81) and Randy Cabral (Scally #4).

Both features went 29 laps honoring the memory of Boston Louie Seymour.

Russ Stoehr (Dumo's Desire #45), Chris deRitis (Cicconi/deRitis #75) and Aaron Wall (Wall #55) completed the top five behind Abold and Cabral.

"I didn't expect to get to the front that quickly," said Abold. He took third from Cabral on lap six, second from deRitis on eight and first from Marvuglio, the only other leader on 10. "I saw those guys in front of me and I knew I had a good car," he said.

Abold, 21, easily thwarted a lap 19 restart challenge from deRitis before the Cabral single-file restart threat with 26 gone. "I was a little concerned but I knew how I had to drive it," said Abold.
Cabral made it interesting but Abold quickly established a seven car length advantage. It was a strong run for Cabral, who started 11th, had third by lap six and grabbed second from deRitis on lap 21.

Stoehr, who continues to run second in points, passed deRitis on the final restart. DeRitis, Jim Miller and Anthony Marvuglio were the heat winners.

Nocella survived three cautions before taking the lead from Lanson Fornoro down the backstretch on lap seven. "Once I got in front and could run my own line it felt great," said the 17-year old. He had a half-track lead when the last yellow fell.

"I was a little nervous about the final restart," said Nocella. "I mean I was leading the thing."

Barrows, second since lap 14, was more concerned. "I was content with second at that point," he said. "Now I had Randy Cabral to contend with."

Eddie LeClerc Jr. (LeClerc #14) and Russ Wood Jr. (Wood #51) were fourth and fifth.

Fornoro, who grabbed the pole after a second lap crash eliminated the front row, was the only other leader. He wound up seventh.

Jim Santamaria and Jesse State captured Lites heats.

NEMA MIDGETS TIME TRIALS (top 10): 1. Jeff Abold (11.071), 2. Greg Stoehr (11.263), 3. Wall (11.271), 4. Cabral (11.400), 5. Horn (11.407), 6. Russ Stoehr (11.421), 7. Leonard (11.425), 8. deRitis (11.435), 9. MacDonald (11.520), 10. Cantor (11.526).
Abold was "absolutely" thrilled at being the first to win two straight "Louie" races. It was also his second straight fast time, besting last year by four tenths.

It was the largest field in the history of the race.

Great runs by Anthony Marvuglio in the feature and Lanson Fornoro in the Lites race were noteworthy.
NEMA Feature - Seekonk - Sat., August 28th
Pos.
#
Driver
Hometown
Owner
1
4
Jeff Abold
Pennellville, NY
Bobby Seymour
2
47
Randy Cabral

Plymouth, MA
Tim Bertrand
3
45
Russ Stoehr

Bridgewater, MA
Dumo's Desire Racing
4
75
Chris deRitis

Philadelphia, PA
Ciconni/deRitis
5
55
Aaron Wall

Shrewsbury, MA
Wall Motorsports LLC
6
93x
Mike Horn

Ashland, MA
Jeff Horn
7
26b
Greg Stoehr

Bridgewater, MA
Greg Stoehr
8
22
Chris Leonard

Pelham, NH
Dave Leonard
9
35
Anthony Marvuglio

Halifax, MA
Glen Cabral

10

25
Keith Botelho

Attleboro, MA
Russ Stoehr

11

3m
Jim Miller

Weymouth, MA
Jim Miller

12

29
Dave Gruel
Syracuse, NY
Bobby Seymour

13

16
Matt O'Brien

Wilmington, MA
Jim O'Brien

14

78
Brian Cleveland

Billerica, MA
Linda Cleveland

15

2
Lee Bundy

Kennebunkport, ME
Lee Bundy
16
DNF
49
B.J. MacDonald

Pippersville, PA
B.J. MacDonald
17
DNF
8
Barry Kittredge

Marlboro, MA
Barry Kittredge
18
DNF
30

Paul Scally
Raynham, MA
Paul Scally
19
DNF
50
Lanson Fornoro

Stroudsburg, PA
Pete Pernisiglio,Sr
20
DNF
7ny
Adam Cantor

Dix Hills, NY
Cantor Racing
21
DNF
44
Bobby Santos

Franklin, MA
Ed Breault
22
DNF
9
John Zych, Jr.

Liverpool, NY
John Zych, Sr.
23
DNS
88
Britt Anderson

Mooresville, NC
Andy Anderson
24
DNS
39
Todd Bertrand

Suffield, CT
Tim Bertrand
Andy Barrows, Anthony Nocella, & Randy Cabral
Lites Feature - Seekonk - Sat., August 28th
Pos.
#
Driver
Hometown
Owner
1
29
Anthony Nocella
Woburn, MA
Matt Seymour
2
81
Andy Barrows
New Ipswich, NH
Bobby Seymour
3
4
Randy Cabral
Plymouth, MA
Paul Scally
4
12
Eddie LeClerc Jr.
Taunton, MA
Eddie LeClerc Sr.
5
51
Russ Wood Jr.
Pelham, MA
Russ Wood
6
18j
Jesse State
New Hyde Park, NY
Jim State
7
00
Lanson Fornoro
Stroudsburg, PA
Paul Luggelle
8
99
Jim Santa Maria
Burlington, CT
Susan Santa Maria
9
31
Paul Bigelow
Berlin, CT
Randy Bigelow
10
13
Ryan Bigelow
E. Hampton, CT
Randy Bigelow
11


DNF

1
Bethany Viets
Manchester, CT
Charles Gunther
12


DNF

50
Carl Medeiros, Jr.
Westport, MA
Carl Medeiros
13


DNF

18d
David Moniz
Fairhaven, MA
David Moniz
14


DNF

47
Ryan Tidman
Levittown, PA
Glen Cabral
15


DNF

28
Paul Luggelle
Holbrook, MA
Paul Luggelle
16


DNF

23
William Wall
Shrewsbury, MA
Bobby Seymour
17


DNF

52
Kevin Park
Foxboro, MA
Kevin Park
18


DNF

36
Eric Cabral
Manhchester, NH
Glen Cabral
19


DNS

93
Jake Smith
Stroudsburg, PA
Ted Smith
Thanks to Stu Murray!
for the Boston Louie Winners Trophies
---
Thanks to the Boston Louie Sponsors!

NEMA FEATURE
Motorcars International - Bridgewater, MA
Risque Racing / Chris de Ritis - Philadelphia, PA

LITES FEATURE
R. J. Harrington Trucking - No. Billerica, MA
Oval Track Pars & Services - Findlay, OH
NEMA HEATS
Crown Collision Centers - Pawtucket, RI
KTron Inc. - Marlboro, MA
Dora Naves & Assos. Real Estate - Marlboro, MA
Bertrand Motorsports - Sturbridge, MA

LITES HEATS
Woody's Auto Repair & Towing - Pelham, NH
Parker Sanitary Pumping - Wrenthem, MA
---
Format for the 2010 Boston Louie
> 3 Heats & a 15 Invert <
3-4 Warm ups (2-3 warmups early in the day - time dependent)


Time trials will be taking place during the last warm up.

No more than 6 cars on the track at a time for time trials.

Time trial lineups will be based upon transponder times (the fastest time for each car) from the initial set of warmups. The fastest 6 cars will run together, the next six, and so on.

Time trial results will be based upon the fastest single lap for each car.


2 or 3 heats will be run (depending on car count) and the heat race invert will be determined after time trials. The typical invert over the last two years has been somewhere between 20 and the total number of cars present, - meaning that the 20th fastest car on a #20 invert would start on the pole in the first heat.

Either 4, 5 or 6 cars (dependent on 2 or 3 heats) will qualify out of each heat.


There will be a feature invert and it will be between 6 and 15. The feature invert is based upon TIME TRAIL TIMES.

If, for example, a #12 invert, the fastest out of the qualified cars would start 12th, the second fastest 11th, the third fastest 10th, and so on.
The 13th – 15th fastest, although they may have qualified through their heat, would start 13th – 15th, heads up.
If, for example, a #15 invert, the fastest out of the qualified cars would start 15th, the second fastest 14th, the third fastest 13th, and so on.
---
Seekonk Hosting NEMA's "Louie"
Brockton, MA – A slim 22 points separate leader Randy Cabral and Russ Stoehr as the Northeastern Midget Association makes ready for the coveted Boston Louie Memorial Saturday night at Seekonk Speedway.
The battle includes car owners Tim Bertrand and the Dumo's Desire team. Cabral and Stoehr are both "Louie" winners, Cabral looking to become the first to collect three triumphs.
Jeff Abold, slated to drive the Seymour #4, will be the "defending champ" in the 14th running of the 29-lap event. "The Louie," which honors the memory of heralded owner Boston Louie Seymour, is NEMA's most coveted trophy.
Chris deRitis, off a first-ever NEMA win at Waterford two week back, set atop a battle for the third spot in the points battle. Only 62 points separate deRitis and fifth place Adam Cantor with Russ Stoehr in fourth.
Abold moves into the Seymour 4 that Lou Cicconi drove to a convincing win earlier this season at Seekonk. In Seymour equipment, the second generation has been first or second in four of the last seven NEMA visits to Seekonk.
The Seymour family has seven wins in the last 17 Seekonk races, winning twice with Mark Buonomo and Bobby Santos III in addition to Abold and Cicconi.
Jim Miller, William Wall and Erica Santos are other contenders.
A large field is expected for the 29-lap NEMA Lites test as well. Anthony Nocella carries the Seymour hopes in the Lites race. Other contenders include Cabral, Eddie LeClerc, Russ Wood Jr., James Santa Maria, Joey Chick, Paul Luggelle and Bethany Viets.
---
NEMA'S Headliner 'The Louie' Looms
Brockton, MA – Three former winners including defending champion Jeff Abold will be among the entries for Northeastern Midget Association's 14th annual Boston Louie Memorial Saturday night, Aug. 28 at Seekonk Speedway.

The event memorializes the legendary car owner Boston Louie Seymour. Hosted by the Seymour family, headed by matriarch "Miss Ellie," the 29-lap feature has become the most coveted prize in New England Midget racing.

In addition to Abold, Russ Stoehr, who won the first "Louie" in 1997, and Randy Cabral are the other former winners. Two-time defending NEMA champion Cabral, who prevailed in 2000 and 2008, hopes to become the first three-time "Louie" winner.

The NEMA Lites are on the agenda as well. Anthony Marvuglio's Lites win was one of 2009's emotional highlights.

Emotion has always been part of "The Louie" starting with the number 29. It belonged to Louie Seymour, "the man who towed a million miles" out of Marlboro, MA to success on USAC's Sprint Car and Silver Crown circuits.

It was at the 2000 Louie that Cabral, in a family car older than himself, won his first-ever NEMA race. Two years later, at the Waterford Speedbowl on August 24, 2004, a then 16-year old Bobby Santos, part of a Scrivani/Seymour effort, grabbed his first Midget checkered.


Abold was the first to put the #29 into Victory Lane but it is hardly the first "Louie" success for the Seymour family. It got no better than 1999 when Louie's boys Bobby and Mike finished one-two at Seekonk.

While Abold hopes to become the first back-to-back winner and Cabral the first three-time winner, Stoehr eyes a spot on the two-time list with Cabral, Joey Payne and Ben Seitz. Stoehr, who won with Bruce Beane in '97, hopes to give the Angelillo team its fourth Louie.

There are a number of drivers looking to join a Louie win list that includes Drew and Nokie Fornoro and Jeff Horn. That group includes last season's DAV winner Adam Cantor, Greg Stoehr, Jim Miller, Waterford Wings & Wheels winner Chris deRitis, Erica Santos, Mike Horn, Aaron Wall and John Zych Jr.

Lite contenders include Cabral, Anthony Nocella, Russ Wood Jr., Eddie LeClerc Jr., Bethany Viets, Paul Luggelle and Jim Santa Maria.